BALLINA I IRELAND
STREET ART I DISADVANTAGED PEOPLE I CO-DESIGN I INCLUSION
THE PROJECT IN A FEW WORDS?
Youtube link:
Ballina Fringe Festival is an arts festival that takes place in Ballina every October. Ballina Fringe Festival seeks to enhance access to high-quality arts content in Ballina and North Mayo and attract new audiences to the region, by developing and delivering an ambitious and sustainable multidisciplinary Fringe Festival programm. At the heart of the festival is community engagement, with a particular focus on groups within our community who are marginalized, disadvantaged, or disenfranchised, to enhance their representation and inclusion in our town and community. Within this focus, our street art programme – Pure Ballina – has a strong community focus. Every year, a street artist is selected via international competition, and then spends time in Ballina engaging with one or more community groups on a pre-chosen theme. Their engagement then results in one or more community street art pieces, and an artist piece informed by the theme and the consultation.
DURATION?
The festival takes place over a 10-day period every October.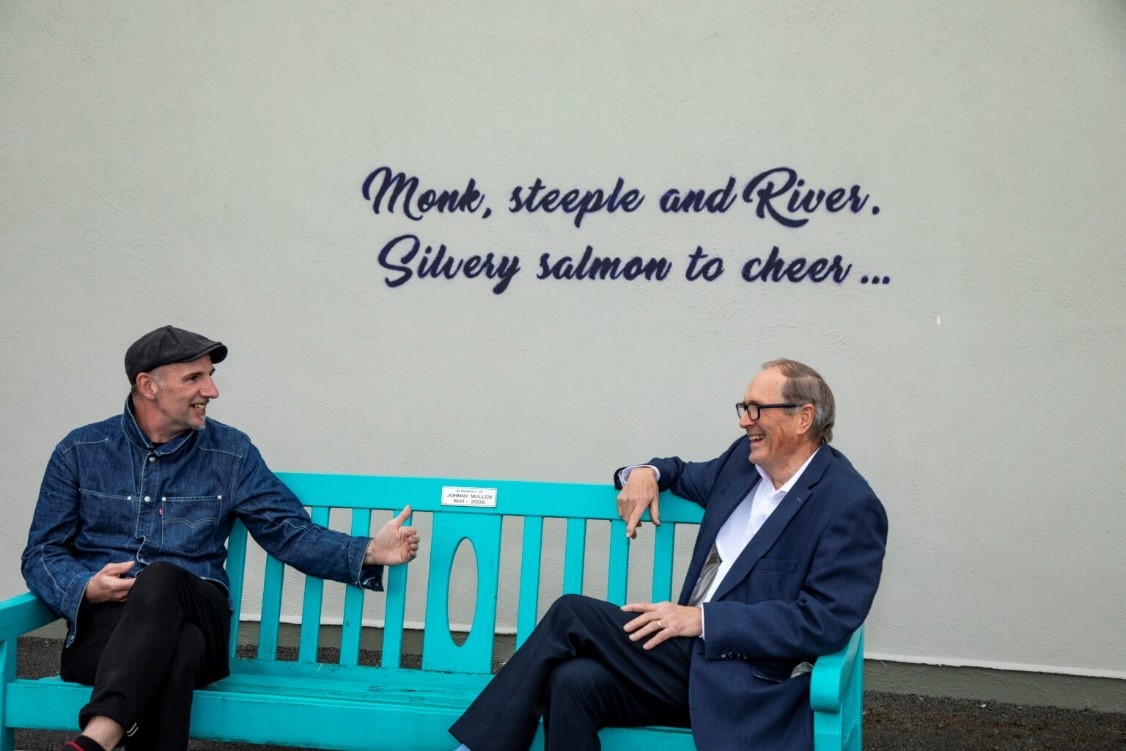 CONTEXT OF THE PROJECT WITH THE COVID PERIOD?
Ballina Fringe Festival existed prior to Covid and was one of the very few festivals in the area that adapted to take place during the Covid period. However, over the two years of Covid, we learned how best to navigate these restrictions, adapting events and engagement to ensure optimal engagement and outcomes.
WHO ARE THE PARTNERS?
Ballina Arts Centre and Mayo North Tourism have been key supporters of this project, as have Mayo County Council and Creative Ireland. The Jackie Clarke Collection has been a great historical and archival resource for our artists, and the wider community has been incredibly welcoming to the artists and community groups. Ballina Community Clean Up Group and Ballina Tidy Towns have been extremely supportive in preparing walls for painting.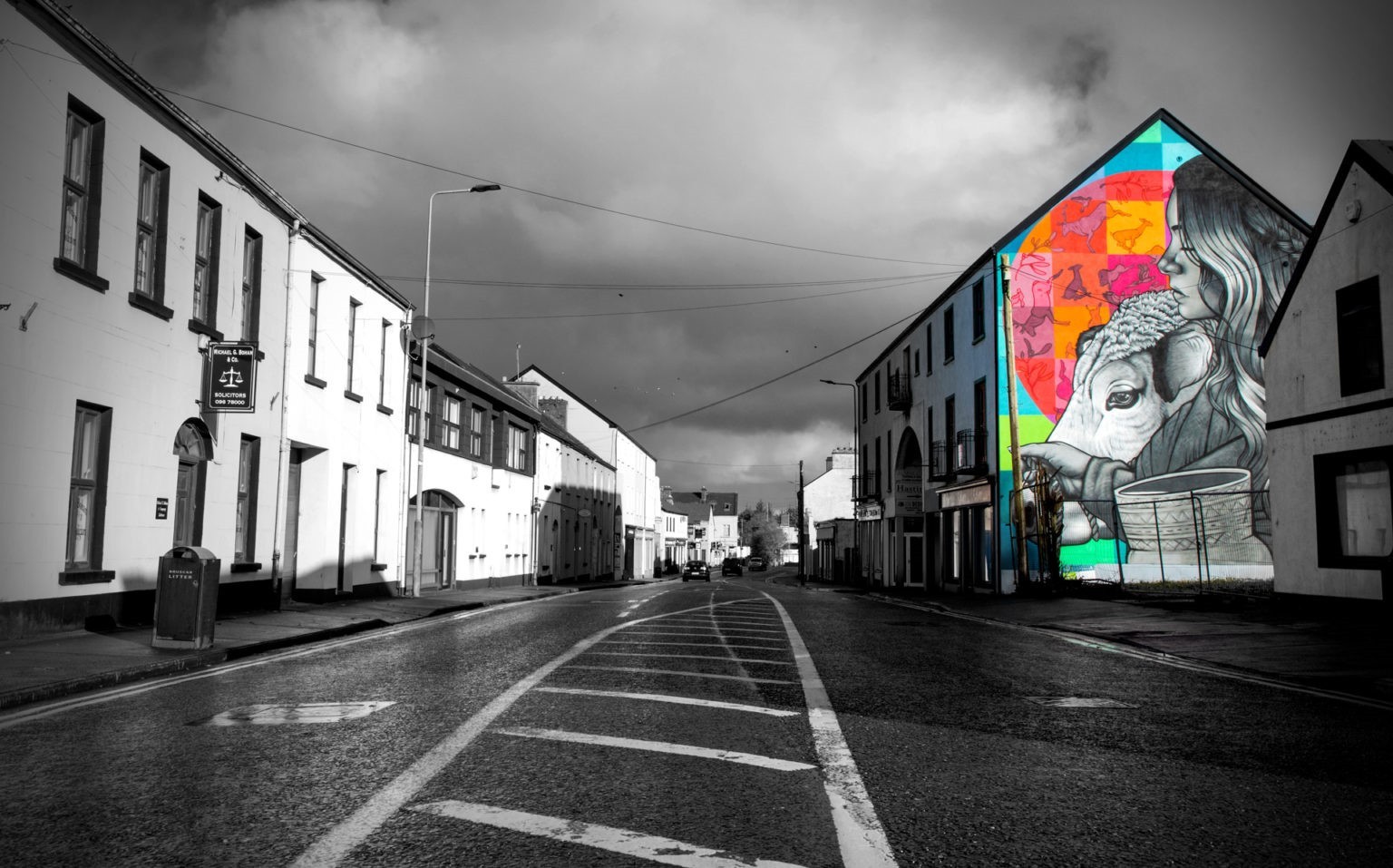 WHAT ORGANIZATION? WHAT ARE THE STEPS OF THE PROJECT?
A key focus of Ballina Fringe Festival is the Pure Ballina Street Art programme. A five-year programme that began in 2019, the program culminates in 2023 to align with the 300th anniversary of the foundation of Ballina, which will be marked by Ballina 2023, a year-long celebration of our town and our community. Ballina Fringe Festival has worked with the following street artist:
2019 I FRIZ – a collaboration with Ballina Men's Shed, North Mayo Youth Project, and Involve Ballina.
2020 I Maser – a collaboration with the support of Ballina Men's Shed again, they worked with another group of young people who were restricted to their homes for weeks – through a collaboration with the Ballina Neighbourhood Youth Project. Like last year, the artist worked with the young people (from Ballina NYP) and created a number of striking street art pieces at locations around the town. The theme for the project 'Place'.
2021 I Canvaz – a collaboration with St Augustine's Community Nursing Unit and local historian Terry Reilly.
Each of the artists spent time in consultation with the community groups identified, exploring pre-agreed themes relating to the groups' experience of and lives in Ballina. They each created a community street artwork, and the artists each created an individual artwork on the same theme, informed by their interactions with the community groups.
As above, the community groups gave voice to their experiences of life in Ballina on certain themes, informing and shaping a visual creation that reflects their experiences. They then collaborated with the selected street artist to create a street artwork. Each group has subsequently participated in street art launches, tours, etc, sharing their experience.
Ballina is a town where many community groups collaborate and work well together. We share the same vision for our community and take pride in our collective efforts to make the town and its community welcoming, bright and friendly, developing civic pride and a focus on equality throughout. Led by Ballina Fringe Festival and our community group leaders, we have had really positive collaborations that come together easily and bring positive outcomes.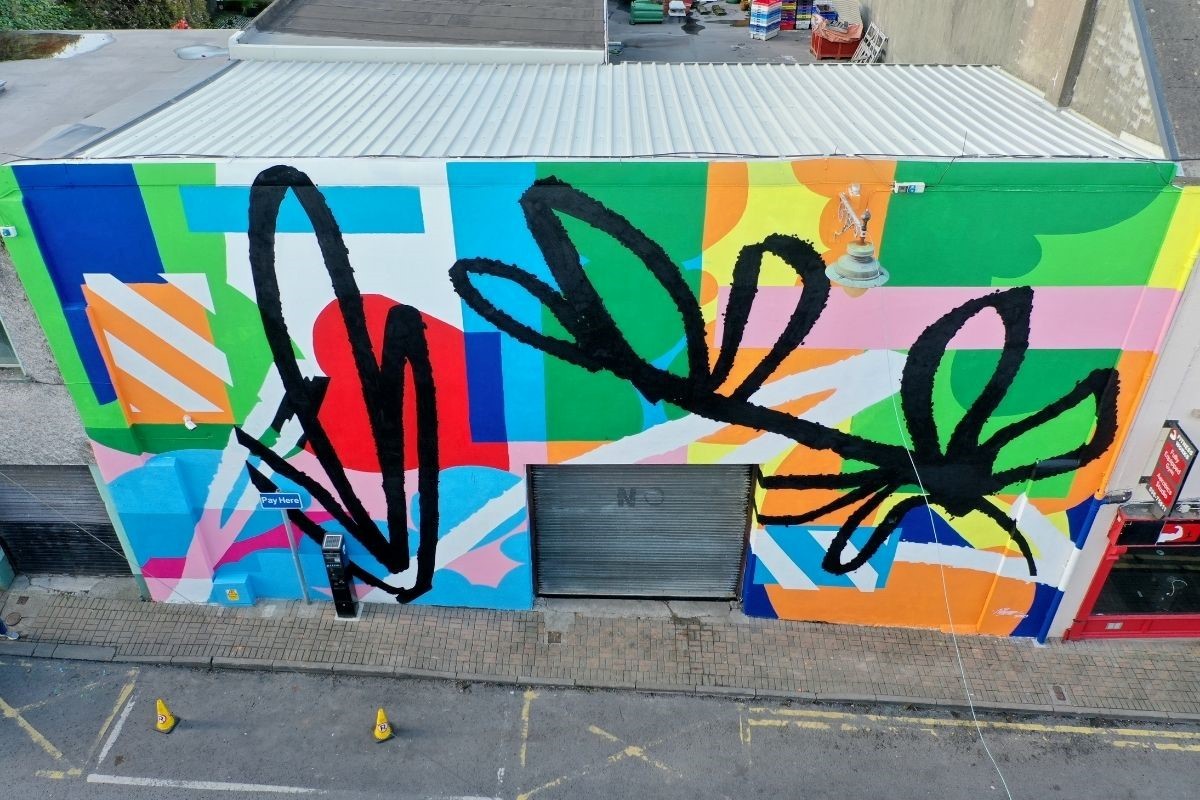 WHAT WORKED WELL IN THE PROJECT?
A clear brief and good inception meeting with all project stakeholders have been a really helpful start to all of our projects.
Allowing adequate time for the consultation to explore all the issues, concerns, and areas of interest is also important. Some themes are challenging, and some groups need more time to express themselves, but it's been important to recognize that and facilitate it.
Equally, with Covid, flexibility and adaptability have been vital in ensuring success. Restrictions have been challenging for everyone, but equally, delivering on our commitments to funders, stakeholders, artists, and our community groups have been so important to the festival committee. We take great pride in having navigated Covid successfully, and in continuing our festival work throughout.
WHAT WORKED LESS WELL IN THE PROJECT?
At times, community engagement was challenging largely due to restrictions on community groups. Covid restrictions have been challenging to navigate, and required great flexibility, especially in relation to our commitments to local community groups.
PROJECT DESCRIBED BY MOMENTUM